President's daughter Mariela Castro organizes support and treatment for Cuban transgender people. Is the socialist island changing into a queer paradise?
2016, Documentary, 86 Min, DCP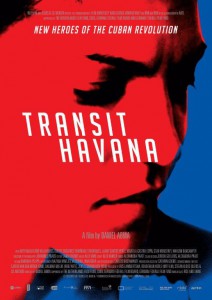 In Havana, transsexuals Odette, Juani and Malú wait for genital surgery – performed by European top surgeons and organized by the president's daughter, Mariela Castro. Castro is leading a sexual revolution combined with classic state socialism. New possibilities face old problems: will Cuban trans people find happiness despite intolerance, poverty and prostitution?
– Watch TRANSIT HAVANA on Vimeo on demand
– Get the DVD at the Rise and Shine Webshop
– Trailer: International cinema trailer, Dutch cinema trailer
– Facebook: www.facebook.com/transithavana
– Worldsales: Rise and Shine World Sales
Credits
A production of Witfilm and Kloos & Co. Medien
a coproduction with BNN-VARA and RBB in association with ARTE
a coproduction with Film University Babelsberg KONRAD WOLF
with the support of Nederlands Film Fonds, FFA Filmförderungsanstalt, DFFF Deutscher Filmförderfonds and CoBO Fonds.
DIRECTOR Daniel Abma
RESEARCH Alex Bakker
EDITING Jana Dugnus
CINEMATOGRAPHY Johannes Praus
SOUND Alexandra Praet, Jeroen Goeijers
MUSIC Alex Simu
PRODUCER Iris Lammertsma (Witfilm) & Stefan Kloos (Kloos & Co. Medien)
PRODUCTION Nazima Mintjes, Nienke Rispens (Witfilm), Loraine Blumenthal & Veronika Janatkova, Michaela Pnacekova (Kloos & Co. Medien), Cathrin Göbel (Film University Babelsberg)
Awards
Audience Award & Jury Award Wpath.org transgender film festival 2020, online

Special Mention Human Rights Filmfestival Valencia, 2017, Spain
Audience Award Image+Nation LGBT Film Festival Montreal, 2016, Canada
Best human rights film Verzio Human Rights Film Festival Budapest, 2016, Hungary
Audience Award Cinedoc Tbilisi, 2016, Georgia
Best feature lenght film Filmkunsttage Sachsen-Anhalt, 2016, Germany
Lili Award for best documentary MIX Copenhagen LGBTQ Film Festival, 2016, Denmark
Best documentary Amsterdam LGBT Film Festival "Roze Filmdagen", 2016, the Netherlands
Festivals TRANSIT HAVANA
Jun. 2023 Get up! Get Loud! aktivistisches
Dokumentarfilmfestival, Hannover, Germany
Nov 2022, Kubanische Visionen – 4. Festivals de Kubanischen Kinos, Hannover, Germany
Nov. 2020, Wpath Transgender online film festival
Dec. 2018, Festival de Cine Documental Prestas, Havana, Cuba
Sep. 2018, Durban Gay and Lesbian film festival, South Africa
Jun. 2018, TransDOCUMENTA São Paulo, Brasil
Jun. 2018, Brasília LGBTQ Film Festival, Brasil
Mai. 2018, Cuban Film Festival HongKong, China
Mai. 2018, Human Rights Film Festival HongKong, China
Mai. 2018, Amnesty International Human Rights Film Festival, Rome, Italy
Mar. 2018, One World Romania – Human Rights Film Festival, Bucharest, Romania
Feb. 2018, Detour Rome – on the road film festival, Rome, Italy
Dec. 2017, Vues d´en Face – LGBT Film Festival, Grenoble, France
Nov. 2017, African Diaspora International Film Festival, New York, USA
Sep. 2017, Saratov Sufferings Film Festival of Documentary Drama, Russia
Sep. 2017, FM LGBT Film Festival, Fargo Moorhead, USA
Sep. 2017, Vilnius Queer Festival "Kreivės", Lithuania
Sep. 2017, Queer Lisboa Film Festival, Lisbon, Portugal
Sep. 2017, Baltic Sea Docs, Riga, Lativa
Aug. 2017, Festival Internacional de Cine por los Derechos Humanos de Bogotá, Colombia
Jul. 2017, Festival Cine Gay la Palma, Canary Islands, Spain
Jun. 2017, Ciclo de Cine LGBTIQ+, Quito, Ecuador
Jun. 2017, Frameline San Francisco International LGBTQ Film Festival, USA
Jun. 2017, TLVFest, Tel Aviv, Israel
Mai. 2017, Favourites Film Festival Bremen, Germany
Mai. 2017, World Village Festival Helsinki, Finland
Mai. 2017, One World Human Rights Film Festival Brussels, Belgium
Mai. 2017, Milennium Docs Against Gravity, Warsaw, Poland
Mai. 2017, Queer Festival Heidelberg, Germany
Apr. 2017, Transgender Film Festival Kiel, Germany
Apr. 2017, ACT Human Rights Film Festival, Fort Collins, Colorado, USA
Apr. 2017, Ask international minorities festival, Karachi, Pakistan
Mar. 2017, Docudays UA, Kiev, Ukraine
Mar. 2017, One World Human Rights Documentary Film Festival Prague, Czech Republic
Mar. 2017, Toronto Queer Film Festival, Canada
Feb. 2017, International Film and Humans Rights Festival Valencia, Spain
Feb. 2017, Zineoak LGBT Film Festival Bilbao, Spain
Feb. 2017, Berlin & Beyond Film Festival, San Francisco, USA
Dez. 2016, Image + Nation, Montreal LGBT Film Festival, Canada
Dez. 2016, In-Doc Film Festival, Jakarta, Indonesia
Dez. 2016, International Film Festival Havana, Cuba
Dez. 2016, Belgrade Queer Film Festival Merlinka, Serbia
Dez. 2016, This Human World, Human RighTs Film Festival Vienna, Austria
Nov. 2016, Asterisco LGBT Film Festival Buenos Aires, Argentina
Nov. 2016, El Lugar sin Limites, LGBT Film Festival Quito, Ecuador
Nov. 2016, Pantalla Latina, Latino Film Festival St. Gallen , Switzerland
Nov. 2016, Queersicht LGBT Film Festival Berin, Switzerland
Nov. 2016, Latino Film Festival Saarbrücken, Germany
Nov. 2016, 61. Cork Film Festival, Ireland
Nov. 2016, Queer Film Festival Oldenburg, Germany
Nov. 2016, Queerstreifen Münster, Germany
Nov. 2016, FILMZ, Festival des deutschen Kinos, Germany
Nov. 2016, Slovak Queer Film Festival, Slovakia
Nov. 2016, Verzio Human Rights Film Festival Budapest, Hungary
Nov. 2016, Filmfestival Cottbus, Germany
Okt. 2016, Queer Filmfestival Weiterstadt, Germany
Okt. 2016, Filmkunsttage Sachsen-Anhalt, Germany
Okt. 2016, Sydney Antenna Documentary Film Festival, Australia
Okt. 2016, Cinedoc Tbilisi, Georgia
Okt. 2016, International Queer Film Festival, Hamburg, Germany
Sep. 2016, MIX Copenhagen LGBT Film Festival, Denmark
Sep. 2016, International Film Festival Bergen, Norway
Sep. 2016, Netherlands Film Festival Utrecht, the Netherlands
Jul. 2016, East End Film Festival Documentary Competition, London, UK
Jul. 2016, Karlovy Vary International Film Festival Documentary Competition, Karlovy Vary, Czech Republic
Mai. 2016, Dok.fest Munich International Competition, Germany
Mar. 2016, Roze Filmdagen Amsterdam LGBT Film Festival, the Netherlands
Mar. 2016, Movies that Matter Human Rights Filmfestival, The Hague, the Netherlands