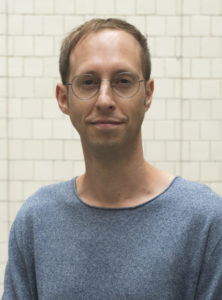 Daniel Abma (born 1978 in the Netherlands) moved to Berlin after finishing his studies in Primary School Education. He worked as a media-literacy teacher before beginning his studies in Film Directing at the Film University Babelsberg in Potsdam (Germany). His feature length documentaries BEYOND WRIEZEN (2012), TRANSIT HAVANA (2016), and AUTOBAHN (2019) were shown at film festivals worldwide like Karlovy Vary film Festival, IDFA and DOK Leipzig, and won several audience- and jury awards. Abma focuses on observational, character-based documentaries about social issues.
Since 2017 he works at Film University Babelsberg KONRAD WOLF where he teaches students in directing documentaries. Furthermore he works as a tutor at pitching workshops (e.g. Baltic Sea Docs Riga, Cinedoc Tbilisi, Docudays Kiev), and is part of the selection committee of the DOK-Leipzig film festival since 2018.
Daniel Abma wurde 1978 in den Niederlanden geboren. Er zog nach seinem Studium der Grundschulpädagogik von Amsterdam nach Berlin und arbeitete dort zunächst als Medienpädagoge. Anschließend absolvierte er sein Regiestudium an der Filmuniversität Babelsberg KONRAD WOLF in Potsdam. Seine abendfüllenden Dokumentarfilme NACH WRIEZEN (2012), TRANSIT HAVANNA (2016) und AUTOBAHN (2019) liefen weltweit auf Filmfestivals wie z.B. Karlovy Vary, IDFA und DOK Leipzig und gewannen mehrfach Preise (z.B. Grimme Preis für NACH WRIEZEN). Daniel Abma arbeitet seit 2017 als Dozent für Dokumentarfilmregie an der Filmuniversität Babelsberg KONRAD WOLF und ist außerdem europaweit als Tutor bei Pitch-Trainings auf Filmfestivals tätig (u.a. Baltic Sea Docs Riga, Cinedoc Tbilisi, Docudays Kiev). Zudem ist er seit 2018 Mitglied der Auswahlkommission für das DOK-Leipzig Film Festival.
Filmography: (selection)
Autobahn – 2019 – 85 min – doc
Transit Havana – 2016 – 86 min – doc
Holanda del Sol – 2013 – 45 min – doc
Beyond Wriezen – 2012 – 88 min – doc
Officially Unofficially – 2010 – 11 min – doc
Lothar Erdmann – 2010 – 13 min – doc

Filmographie: (Auswahl)
Autobahn – 2019 – 85 min – doc
Transit Havanna – 2016 – 86 min – doc
Holanda del Sol – 2013 – 45 min – doc
Nach Wriezen – 2012 – 88 min – doc
Offiziell Inoffziell – 2010 – 11 min – doc
Lothar Erdmann – 2010 – 13 min – doc