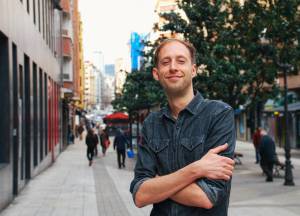 Daniel Abma (1978, the Netherlands) moved to Berlin after finishing his studies Primary school education. He worked as a youth worker before starting his studies Film directing at the Film University Babelsberg in Potsdam (Germany). His first feature length documentary BEYOND WRIEZEN (2012) about the resocialisation of three delinquent German adolescents was shown on numerous film festivals like IDFA & Dok Leipzig and won various prices, among others, the prestigious German Grimme Award. His second film TRANSIT HAVANA (2016) about Cuba´s sexual revolution for transgender people had theatrical release both in the Netherlands and Germany, was shown at more than fifty film festivals around the globe and won several audience- and jury awards.
Daniel makes observative, character based documentaries about social issues. Besides film making he works at Film University Babelsberg KONRAD WOLF where he is part of the academic staff and teaches students in directing documentaries. He works as well as a media-literacy teacher and gives workshops and masterclasses about documentary film making.
Daniel Abma wurde 1978 in den Niederlanden geboren. Er zog nach seinem Studium der Grundschulpädagogik nach Berlin und arbeitete dort zunächst als Medienpädagoge. Anschließend absolvierte er sein Regiestudium an der Filmuniversität Babelsberg in Potsdam. Sein erster abendfüllender Dokumentarfilm NACH WRIEZEN (2012) über die Resozialisierung junger, männlicher Strafgefangener in Brandenburg wurde auf verschiedenen Filmfestivals (z.B. IDFA, DOK Leipzig) präsentiert und gewann mehrere Preise, darunter den renommierten Grimme Preis. Sein zweiter Film TRANSIT HAVANNA (2016) über Kubas sexuelle Revolution für Trans* – Menschen wurde weltweit auf über 50 Filmfestivals gezeigt und mit verschiedenen Publikums- und Jurypreisen ausgezeichnet. Zudem lief er in den Niederlanden und Deutschland im Kino sowie international im Programm verschiedener Fernsehsender.
Daniel macht beobachtende, personenbasierte Dokumentarfilme über soziale Themen. Er arbeitet außerdem als akademischer Mitarbeiter an der Filmuniversität Babelsberg KONRAD WOLF und gibt dort Dokumentarfilmunterricht. Des Weiteren arbeitet er freiberuflich als Medienpädagoge, leitet Workshops und hält Vorträge über das Fachgebiet Dokumentarfilm.
Filmography: (selection)
Transit Havana – 2016 – 86 min – doc
Holanda del Sol – 2013 – 45 min – doc
Beyond Wriezen – 2012 – 88 min – doc
Gabriella and the golden boys – 2011 – 45 min – doc
Hannes about Papas and Power Ranger – 2011 – 28 min – doc
Officially Unofficially – 2010 – 11 min – doc
Lothar Erdmann – 2010 – 13 min – doc
Filmographie: (Auswahl)
Transit Havanna – 2016 – 86 min – doc
Holanda del Sol – 2013 – 45 min – doc
Nach Wriezen – 2012 – 88 min – doc
Gabriella und die Jungs aus Gold – 2011 – 45 min – doc
Hannes über Papas and Power Ranger – 2011 – 28 min – doc
Offiziell Inoffziell – 2010 – 11 min – doc
Lothar Erdmann – 2010 – 13 min – doc